April 2013
---
7 Apr
Wow, long time, huh? It's been too cold to do any painting, and that's what I need to do... See, I've got all this visqueen hanging all over the place, so I can't get to my tools. And there's all these truck parts laying around, making it hard to move the visqueen... So when I need a tool, I have to really dig for it, and then it's too much hastle to put it away, so now I have piles o' tools and piles o' tools laying everywhere.
Now, I could have taken down the engine, and maybe sent it off for a rebuild, but... Yeah, that previous paragraph - I can't get to anything! Arrrrghhh!
To get all those truck parts outta the way, I need to first get them painted. "Well," you ask, "why haven't you painted them?" I'll tell you why, the reason's freezin'! (also the answer for "Why not Minot?) It's been too danged cold to do any painting (and I don't have a heater for the garage). I've been chomping at the bit to shoot some paint, so I can start getting things put together.
So, this weekend it finally got warm enough that I could start shooting some paint! WooHoo!
So, here's a couple of quick pics of some things getting painted: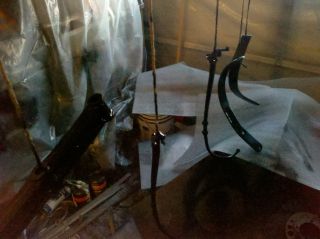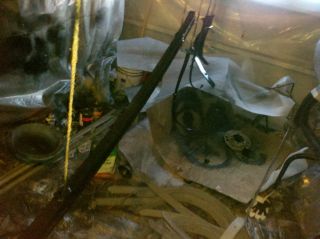 So, here's the plan...
Paint all the suspension components
Buy all the necessary seals, bushings, etc (partly done)
Buy all the brake components to rebuild all the brakes system(s)
Reassemble the front and rear axles & wheels (so they'll be rolling assemblies)
Roll the front & rear axles out (as required)
Paint the frame
Roll the axles back in and set the frame on them
Tear down all the visqueen (for now)
I'll then have a rolling chassis that I can move out of the way (as necessary), and then I'll be able to clean up the garage, tear down the engine (and tranny), and get to work on all that stuff.
I am hoping that by the end of this year I will, at the very least, have the mechanicals all installed in this thing. That is, the engine, transmission, suspension - basically a driveable frame. That will leave just getting the body all redone. High hopes!
---
---
Last modified on 05/25/13
---