Nov 2012
---
1 Nov
Finally got the parts back from the machine shop. That would be the rear backing plates, one of the rear emergency brake brackets, and the front spring perches. It's been a while ago, but I asked Kevin to pull the bushings out. I also said "take your time - I'm in no hurry." Well, he did. And the were a royal pain in the rear. They were worn so thin, and had corroded enough that they were near impossile to get out. In the end, he had to cut them and peel them out. With the front perches and the shackle bushings, he had to chuck them up in a vertical drill press and drill them out enough that he could cut them. Oh bother.
But the big news is that I got some friends to help me haul stuff up to O.T. Neighoff's. Blasting and 1st coat of paint for frame, wheels, and suspension components for an awesome price. Hardest part (aside from getting everything ready) was getting it all there. He also made me a decent deal to shoot the paint on the whells, so I took him up on it. A friend will help us haul everything up this weekend.
---
2 Nov
Back in October, I mentioned something about maybe having a case of the stupids? Yeah, well, I wasnt over them as soon as I thunk. I forgot to put gasket sealant in the seals of the torque tube and axle housing. On the plus side, I remembered it now, and not when it started leaking. My littlest girl helped me out - we pulled the bolts out of the axle housing, very carefully removed the gasket, applied a liberal amount of sealant, put it back, and sealed it up. We used Permatex Sealant that I picked up at Auto Zone. I don't remember past sealants being so thick and stringy, nore such a pretty color of red. Also, it didn't have a "puffball" applicator, but a regular brush. Whatever, so long as it works.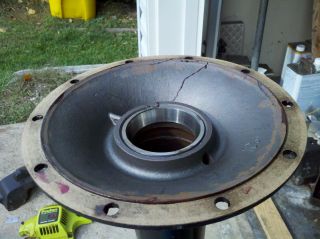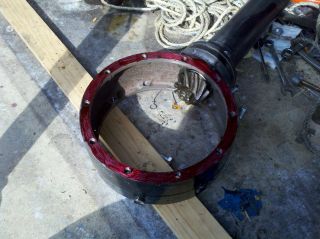 After that was done, I pulled the snap ring off the drive shaft and pulled the torque tube bolts loose. I tried just yanking it all off, but it would only come up about an inch. So, the little one helped me balance the tube, while I held it up. I lifted the gasket and smeared in some sealant all the way around. Pressed it down and applied sealnt to the other side. The thing went together like a snap. It was almost as if we'd done this before!
---
3 Nov
My friend Tim brought another friend's trailer over this morning - convoluted story, there, but it is what it is. We gathered up the frame, wheels, and a bunch of other parts, and hauled them off to O.T. Neighoff's. The friend's trailer is the rear end of an old full-sized pickup. The kids and I started out early, and had everything but the frame laid out on the driveway, witing for him to show up. We got everything loaded up, and while we were doing the last bit of cleanup, the kids (all of them - my 4 and his 2) were playing frisby. It's all fun and games until someone loses an eye... Or, in this case, gets a bloody nose. My poor middle girl trie catching the frisby with her face, and bled like a stuck pig. I helped her up, gave her some kisses, and sent her to the showers. When she came back al cleaned up, we drove up and delivered the parts.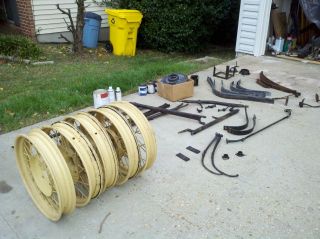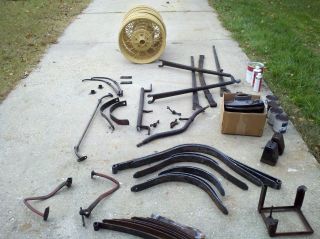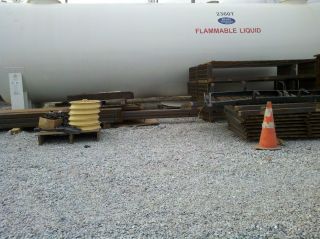 I got to check out the place - it looks like there's several folks what's got their cars there getting blasted. These guys also do a fair number of jobs for my work, too, so I know they do good work. I gave some priorities for the Eastwood Rust Encapsulator, just in case three and a half quarts wasn't enough. They offered up white primer to go under the orange paint on the wheels, which was pretty darned fine of them, I think. I told them I had planned on using the black encapsulator, but they told me it had a tendency to make the oranges look kinda green. So, I'll let them do it since they know what they're talking about.
We brought the trailer back to my other friend's house, and then as a thank you, I took everyone out to Panera bread for hot chocolate. Then we all went back to my house to let the kids play for a bit while I cooked us all grilled cheeses (or grilled ham & cheese for the adults) for lunch. Tim and his kids went home while me and my kids went to work in the back yard. We might've finished assembling the rear end, but thanks to Hurricane Sandy, we had to turn a fallen tree into firewood.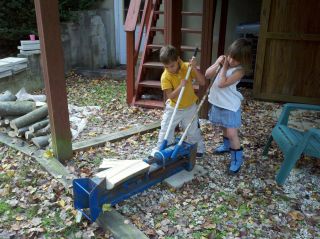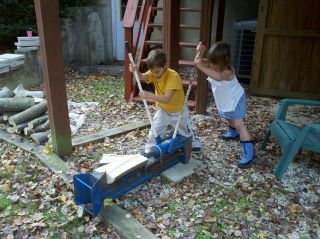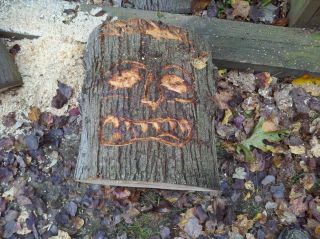 ---
10 Nov
Today, the youngest daughter and I finished up putting the rear-end back together. We put the axle housings on with a liberal amount of gasket sealant in there. Of course, we needed to lightly sand the bearing surfaces to get rid of some surface rust. It only took us about an hour to get everything back together, and then she helped me torque it all down. Job is nearly complete - I've lost my bag of Zerk fittings, so I haven't installed those, yet. Nor have we put gear oil in the rear end. I did put a torque wrench on the drive spline, though, and it looks to take about 5 ft-lbs on the drive shaft to turn the axles. I think that looks pretty good!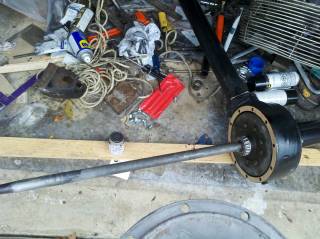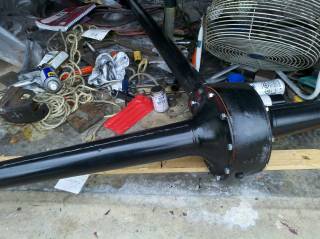 ---
22 Nov
It was kinda warm out today (a balmy 65 with hot sunshine), so I decided to go ahead and shoot some paint over the rear end. I notice in the rear end seminar, he talks about doing the paint at the end. I can see why. I had to go over the chassis black with some 800 grit sandpaper to rough it up, and I had to hit the areas around the mating faces pretty hard, as paint had gotten chipped down to the metal in a couple of spots. I roughted it all up, cleaned off excess laquer, and then shot a coat of rust encapsulator on the bare metal areas. Once that was mostly dry, I shot a heave coat of chassis back on all of it. It looks almost like I know what I was doing! The littlest and I put the rear end up on jack stands before doing this, so this way I could move it around to shoot the underside. Here's the finished recults: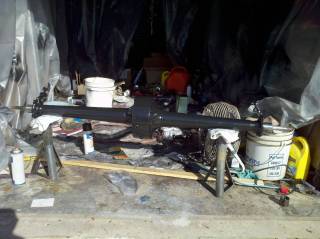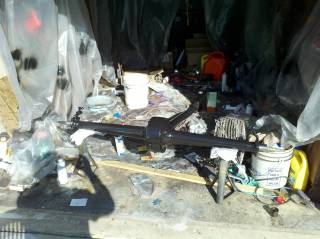 All that's left is to get the radius rods and backing plates on, and it'll be nearly ready to go (still need Zerks and gear oil)... Oh, yeah. I am slightly worried about proper positioning of the axle housings. I'm pretty sure they're correct, but I worry they need to be rotated forward a notch (if that makes sense), since the torque tube points up a bit. I don't want the springs to be binding...
And that's it for November. Stay tuned for December, although the weather's turning cold, so I have my doubts that much will get done.
---
---
Last modified on 12/31/12
---